Tracking in healthcare : For a better patient follow-up and asset traceability
Health monitoring devices are growing and evolving rapidly. Today, application and software developers are creating new innovative healthcare systems for the well-being of patients and …
Tracking in healthcare : For a better patient follow-up and asset traceability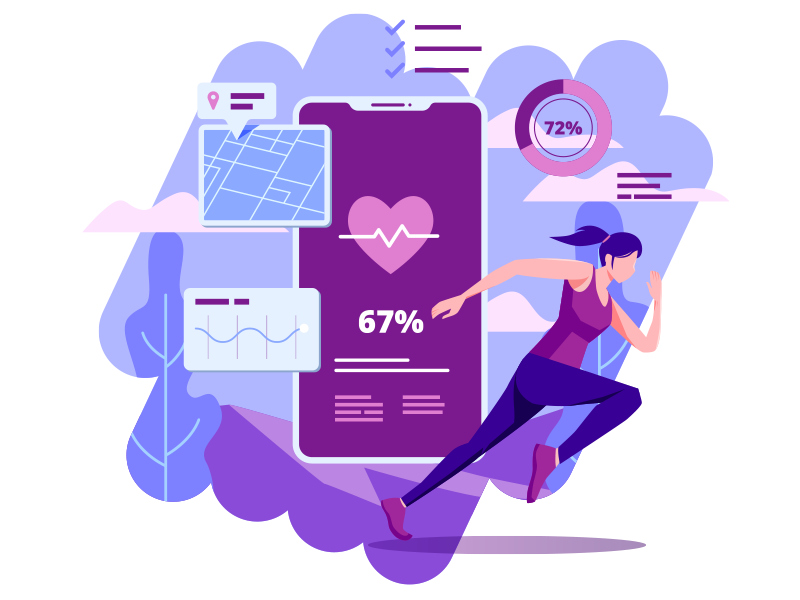 Health monitoring devices are growing and evolving rapidly. Today, application and software developers are creating new innovative healthcare systems for the well-being of patients and a better efficacy for healthcare actors.
With the current situation of Covid-19, tracking tools are being implemented to follow the evolution of the pandemic or the number of people vaccinated worldwide.
Hospitals and healthcare facilities need to provide their patients with an accurate diagnosis and a personalized care. Tracking is an analysis and observation tool that can help meet the changing needs of the healthcare sector.
Tracking system for patients and healthcare actors
Tracking initially ensures interoperability between the various actors within the healthcare chain (doctors, nurses, surgeons, etc.). A visitor tracking system allows physicians to exchange patient data easily, which improves communications and interactions between physicians and patients and simplifies the workflow. This tool significantly improves the accuracy of medical diagnosis.
Tracking helps improve patient safety and healthcare outcomes. It ensures records-keeping, patient's follow-up treatment and reinforces the verification of drugs dosage. Patient's personal data, such as prescribed medications, appointments and allergies are also registered, which prevents potential errors.
Tracking reinforces the control of patient flow. It helps locate patients within hospitals as well as the "missing patients". Healthcare professionals can also anticipate and reduce patient wait times through patient flow analysis.
Healthcare actors can improve their performance and provide better care and services to patients. Tracking systems are an effective way to improve patient satisfaction and engagement.
Pixels Health offers applications that can be connected to Apple Health and Google Fit. The user's health information is stored on his/her device and shared with the health application.
Asset tracking
Hospitals are frequently overloaded with patients, understaffed or under-equipped, which may affect their financial stability. According to a study conducted by Gartner, 10-20% of hospitals inventory is misplaced or goes missing every year. Staff can spend valuable time searching for missing equipment. Lost and stolen equipment costs the healthcare industry millions of euros each year.
This is when tracking systems are used. They allow tracking and locating hospital equipment (beds, wheelchairs, cardiac monitors…) in order to provide real-time solutions. This results in improved costs and better services. Tracking also enhances inventory management and avoids unnecessary expenses.
Pixels Health has developed tracking solutions that adjust to everyone's needs. We have developed the Pixels Beacon solution to ensure proper management of assets. It is now possible to know the exact number of available assets and to track them. Bed tracking for example will let you know how long the bed has been left in a specific place, or if it has been left in the operating room, or where it is located for revision etc.
Asset tracking significantly enhances the visibility of healthcare providers into their equipment and its use. It enables to visualize its location and reduces the time spent searching for it.
The new Apple AirTag
Last April, Apple announced the launch of its new device for iPhone called AirTag. It is a Bluetooth beacon that can help you find lost items easily. It can be attached to key rings, bags, or other objects. AirTags use the devices connected to Apple's network in order to locate missing devices. When the user is unable to find an item, he/she can notify the AirTag to play a sound, allowing the user to locate it.
However, when the lost item is not in proximity, the user must indicate the lost mode on the application. In this case, Apple relies on the existing iPhones. When an Apple device is in proximity of the lost AirTag, it will immediately send its position to the owner. The lost item can then be tracked using the third-party device and the vast global network created by the brand.
Many users express privacy and security concerns, and fear of being watched by Apple. In fact, there is a risk of misuse especially regarding tracking a person without his knowledge and the fear of certain institutions towards domestic violence and other assaults.
Pixels Health will offer you a customized and unique solution adapted to your needs. We are able to guide you in using your tracking tools.